ShareNest Volunteer Page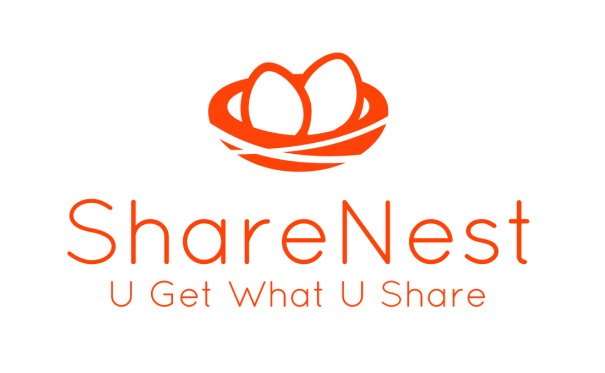 Cheerful Heart Academy is partnering with ShareNest to bring you their new App for finding volunteer opportunities and managing the volunteer hours records!
How to Download and Sign Up to the ShareNest App
HOW TO DOWNLOAD & SIGN UP TO THE SHARENEST APP:
For users with ANDROID devices:
Download the app using this link:

ShareNest

Create your profile in the app following the 6-step SIGN UP process*
For users with iOS ("Apple") devices:
Download the app: ShareNest
Create your profile in the app following the 6-step SIGN UP process*
*On step 5 of the SIGN UP process, choose School as "Type of Community", CheerfulHeart Academy as "Name of Community" and Student as "Position" as shown here: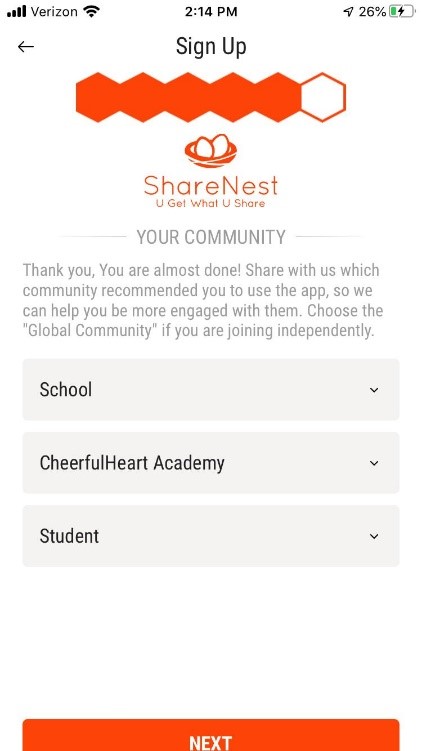 ShareNest App Information
ShareNest Solution
What is ShareNest?
ShareNest is a mobile application designed to help students manage their
volunteering lives and develop soft skills.

How will students use ShareNest?
Search for NPOs near their current locations and have access to organizations contact information
Log their volunteering jobs with minimum required info before they do the work
Clock in/out in real time using location tracker and other security features to
validate time volunteered
Post pictures or short videos of their work to create their "social profile"
Receive a grade (1 to 5 stars) and points for the work done
Check their impact on the community and share this report with their high school and prospective universities they might be applying to
Benefits to students:
Trustworthy "sharing profile"
Easy access to volunteering opportunities
Incentives to volunteer more
ShareGive Report* clear and concise reports on hours volunteered and soft skills developed
Higher levels of Social & Emotional Intelligence

Benefits to schools:
Reliable profile of students as social individuals
Reduction of cheating
Accurate and transparent reporting and analytics
Less paperwork to track volunteering activities


Highlights about ShareNest:
In today's hyper connected digital world, it is the Soft Skills area of excelling at uniquely human capabilities of connection and communication that BOTH colleges and employers are looking for.
The app focuses on time management, leadership, team building and collaboration, patience, cooperation and oral communication skills (a.k.a. soft skills) that student have the opportunity to develop by volunteering.
The ShareGive Report*: is like an "SAT/GMAT/Resume of the heart". We believe a Student is more than just a test score. We believe the heart of a student matters. The ShareGive Report quantifies a student's Soft Skills Growth and capacities, all connected to the quality and quantity of volunteer work he/she has done.

ShareNest FAQ's
ShareNest has provided us with a list of Frequently Asked Questions. Click here to check them out!
ShareNest How To Video